Yesterday was the start of a new month and I wanted to take a moment to express my appreciation to some follow bloggers who featured a few of my posts last month.
First up, I would like to thank Yvonne from StoneGable for featuring my post entitled, A Dish Lover's Best Friend. Her blog is so inspiring to me! She shares so much with her readers… recipes, home décor and scriptures to just name a few!
My diy numbered mugs were featured by three different blogs! Marty from A Stroll thru Life featured them at her Tabletop Tuesday party! Her blog is great! To me, she is the cloche and vignette queen!
Pamela From My Front Porch to Yours also featured my mugs. If you like French country, you will love her blog! You can even do a little shopping in her shop!
Linda from Coastal Charm featured my mugs on Nifty Thrifty Tuesday, her weekly blog party! Linda owns Coastal Charm Interiors located in Mobile, AL. She shares her diy projects along with vintage treasures that she uses to decorate her home.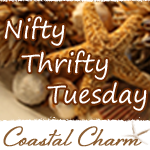 Once again, I'm just tickled pink that these ladies featured my posts! Thanks for stopping by and please go by and visit! Tell them Tammy sent you by!