It's the beginning of a new month and I wanted to take this time to say "Thank you" to all the lovely ladies who featured a few of my post. First up is my Pottery Barn Inspired Wall Organizer!
I was honored when Yvonne at StoneGable to featured it. Her blog is filled with the most amazing pictures of beautiful tablescapes, home décor, and recipes! Each Sunday, she shares inspiring scriptures with us! Yvonne also has beautiful Fall décor as you can see in this picture!
Beckie from Knock Off Décor also featured my wall organizer. As her blog name indicates, her site is filled with great imitations. As Beckie says, "…imitation is the highest form of flattery," and I so agree!
Leslie from House on the Way also featured the wall organizer. Her blog showcases her journey into making her house into a beautiful home that is warm and welcoming. This is exactly how I want my home to be….warm and welcoming!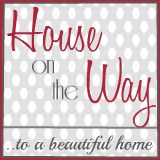 It was featured by Marty at A Stroll Thru Life. I love Marty's style…her vignettes are always so beautiful! This is a recent one that she did! Isn't it gorgeous?
Shasta from
In the Old Road
also featured the coffee station. Her blog features crafts and home design and I believe she just celebrated her one year blog anniversary!
Thank you to all these lovely ladies! I am very honored!